Ways to Quit Smoking
With so many options, how do you know what the best way to quit smoking really is? Truth be told, the best way to quit smoking for one person may not be the best way for another person. The only one who can choose the right quit method for you – is you. Since we already talked about how quitting cold turkey doesn't work for everyone, let's cover another way to quit smoking: Nicotine Replacement Therapy. Nicotine replacement therapies are over-the-counter (non-prescription) stop smoking aids that can help make your quit more manageable by relieving cravings and reducing nicotine withdrawal symptoms. NRT comes in several forms, including nicotine gum, nicotine lozenges and nicotine patches. Close
Nicotine Gum
Nicotine gum like Nicorette is chewing gum specially formulated with nicotine to help you kick the smoking habit one craving at a time. It's a form of nicotine replacement therapy that's available in 2 mg and 4 mg strengths. Nicotine gum is also available in several flavors.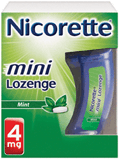 Nicotine Lozenges
Nicotine Lozenges like Nicorette lozenges and Nicorette mini lozenges dissolve in the mouth to release a dose of nicotine to help smokers manage cravings as they happen. The medicine lasts even after the lozenge is gone, making it a discreet way to treat cigarette cravings.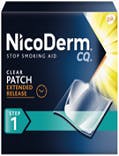 Nicotine patch
If you've tried quitting before, you know just how difficult it can be to say no to those cravings. Nicotine patches were created for this very reason – giving your body less nicotine over time to take the place of some of what you were getting from cigarettes. By gradually delivering nicotine to your body through your skin, nicotine patches like NicoDerm CQ let you wean off nicotine dependency step-by-step.


Want to help someone else quit?
Friends and family can be a big influence on helping smokers get on the path to quitting.